Submitted by
Michelle Cavalier
on Thu, 11/02/2017 - 1:16pm
Dragon's teeth, tiger's claws, and snake's fangs - oh my! The Creature Files series will answer all of your questions about predators in our world and the mythological realm as well.
In Creature Files: Dragons, you'll take a tour through the world of fire-breathing, gold-hoarding, three-headed monsters and discover where and how these magical creatures came to be. Learn the unique folklore of cultures around the globe, from China to Russia to Eastern Africa, and see how people envisioned these otherworldly beasts through lush and evocative illustrations.
In Creature Files: Dinosaurs, you'll peer inside the jaws of these fearsome creatures, discovering what they really looked like, where they roamed, and what they ate, using many of the same tools that actual paleontologists do. Can you match the three replica teeth to the prehistoric mouths they belong to? Stunning illustrations and surprising stats bring the stories of these long-extinct beasts to life.
In Creature Files: Predators, you'll learn astounding facts that put some of the world's most fearsome predators into perspective, like how the fastest speed of peregrine falcons is 200 mph and how gray wolves can eat up to 20 pounds in one meal. This interactive tour includes maps and even three realistic replica claws of predators.
Creature Files: Reptiles features twenty of the world's most extraordinary reptiles, with reptilian profiles brought to life by vivid photographs and a host of intriguing facts. Each slithering or stalking animal comes with a Fang File to give you the lowdown on how it uses its teeth to pierce, crush, poison, or munch its meals. Can you match the three replica teeth included to the reptilian mouths they belong to?
Books: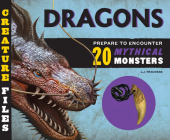 Email or call for price
ISBN: 9780760355299
Availability: Hard to Find
Published: becker&mayer! kids - October 3rd, 2017
Whether they were real or myth, Creature Files: Dragons shows you the folklore of twenty dragons from around the world and what the people believed about them.

Do you believe dragons are nothing more than the scaly stuff of myths? Or do you think they really existed?

---

Email or call for price

ISBN: 9780760355282

Availability: Hard to Find

Published: becker&mayer! kids - October 3rd, 2017

Open wide! You're about to take a look into the mouths of some of the most fearsome dinosaurs to ever walk the Earth with Creature Files Dinosaurs. Grab your tools and get ready for dino exploration!

What can you learn from a 250-million-year-old tooth? More than you might think!

---

Email or call for price

ISBN: 9780760355275

Availability: Hard to Find

Published: becker&mayer! kids - October 3rd, 2017

There's no need to fly around the world to see the more fearsome predators out there Creature Files: Predators brings them straight to you! Check out incredible animals from the arctic to the savanna.

Don't make any sudden movements, because from the savanna to the snowy Arctic, vicious predators are poised to pounce!

---

Email or call for price

ISBN: 9780760355305

Availability: Hard to Find

Published: becker&mayer! kids - October 3rd, 2017

Get nose to nose with twenty of the fastest, strongest, stealthiest, and most poisonous reptiles you'd the planet Earth has to offer, with Creature Files: Reptiles.

From the deadly gaboon viper—with the longest fangs in the world—to the venomous Gila monster that lurks underground, reptiles have an extraordinary assortment of

---