Submitted by
Michelle Cavalier
on Sun, 10/31/2021 - 2:09am
Books: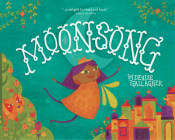 $22.79

ISBN: 9780997958072
Availability: Usually Ships in 1-5 Days
Published: Little Press - October 1st, 2021
Fulki's village lost its moon. But Fulki has a secret. She befriended a tiger who taught her the Moonsong. But the townspeople forbid befriending wild beasts- with teeth and claws and no manners at all. And, the townspeople forbid singing of any kind, for it calls the wild beasts. Will Fulki's friendship with a tiger and their song bring back their long-lost moon?
---