Submitted by
Michelle Cavalier
on Fri, 11/12/2021 - 1:11am
Books: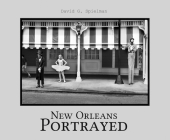 $45.00

ISBN: 9781946160607
Availability: Usually Ships in 1-5 Days
Published: University of Louisiana - June 15th, 2020
Dorothea Lange said, "Photography takes an instant out of time, altering life by holding it still." My job as a photographer is not to direct or manipulate a picture, it's to capture something that presents itself to me. The architecture, light, shapes and people have to come together in a special way within the boundaries of my viewfinder.
---