Submitted by
Michelle Cavalier
on Sun, 01/17/2021 - 8:42am
A chilly Sunday is the perfect time for a slow simmer. This recipe from Mississippi Vegan is *chef's kiss*
Check out a few of our favorite gumbo cookbooks below...
Books:

$35.00

ISBN: 9780735218147
Availability: Usually Ships in 1-5 Days
Published: Avery - October 23rd, 2018
Celebrate the gorgeous and delicious possibilities of plant-based Southern cuisine.

---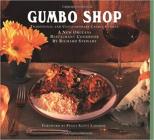 $17.95

ISBN: 9780966863604
Availability: Special Order
Published: Gumbo Shop - March 22nd, 1999
A cookbook featuring over fifty traditional and contemporary Creole recipes from the venerable French Quarter restaurant, authored by Gumbo Shop president and executive chef Richard Stewart. The foreword, by acclaimed New Orleans historian Peggy Scott Laborde paints a broad picture of the city's history, including how and why food plays such a big part.
---

$9.95

ISBN: 9780937552179
Availability: Special Order
Published: Quail Ridge Press - June 1st, 1987
Ahhhhh . . . gumbo.
---